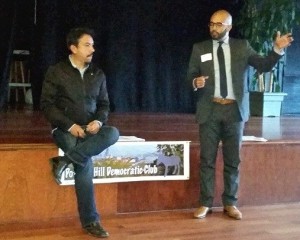 Calle 24, the stretch of 24th Street running from Mission Street to Potrero Avenue, is known as "El Corazón de la Misión", or "The Heart of the Mission." Calle 24 is also the name of the group of merchants and neighbors fighting for the heart and soul of the Mission. Erick Arguello and Edwin Lindo (right) described the widespread displacement of long-time residents & businesses by skyrocketing rents, and legislation introduced by Supervisor Campos earlier that day to place a 45-day moratorium on market-rate housing in the Mission. The club voted to endorse the "No Monster in the Mission" campaign, thereby joining the Plaza 16 Coalition.
SB 128 is the End-of-Life Option Act (Wolk, D-Davis, and Monning, D-Carmel), which would allow terminally ill Californians to request medication to bring about a peaceful death if their suffering becomes unbearable. Jacie Rowe (left), Northern California organizer for Compassion & Choices, discussed the bill. The club passed a resolution of support and will sign on to a letter to legislators.

There are plans afoot for preserving and expanding Medicare, America's universal, public health plan for seniors age 65 and up, and actions to celebrate its birthday this summer. Jonathan Meade from SEIU 1021, part of Healthy California, a coalition of which PHDC is a member, invited PHDC to join the July 30th rally in Oakland.
WHEN: Tuesday, May 5th at 7pm
WHERE: Potrero Hill Neighborhood House, 953 De Haro St @ Southern Heights