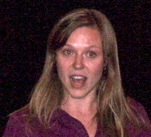 Dawn Kamalanathan (below) of SF Recreation & Parks duked it out with Neal Desai (left) of National Parks Conservation Association and Michelle Myers (right) of Sierra Club SF Bay Chapter over the future of Sharp Park Golf Course. Members tabled a vote on the issue, needing more information. Here are the links to information received:
• From the Sierra Club and Wild Equity Institute:
Summary fact-sheet of the campaign and what the legislation they are crafting (with Supervisor Avalos and the City Attorney's office) would do
Executive summary of all the studies, reports, and articles that have been published on the issue
• From SF Public Golf Alliance (absent a response from Rec & Parks, a member of the audience sent this): Frequently-Asked Questions Memo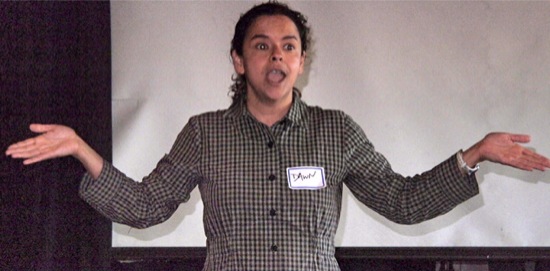 Supervisor Malia Cohen unfortunately had a family emergency and had to reschedule. Tom Gallagher presented a resolution in support of Barbara Lee's Afghanistan withdrawal bill, which passed unanimously. We're looking forward to our August 14th Members Party & Auction. Rebecca Shearin photos.