To begin our  eighth year, PHDC had several things on the agenda:
● Presentation by U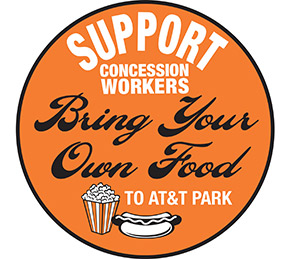 NITE HERE Local 2, representing the 750 concession workers at AT&T Park. Employed by a subcontractor called Centerplate, they are involved in a difficult campaign to achieve a fair contract  and haven't had a wage increase or new contract since April 2010. Workers who shared their stories were Bobby McCall and Patricia Ramirez, joined  by union organizer Julia Wong. Following the meeting, PHDC held an online vote and passed a resolution in support of the concession workers.
● A check-in with members to assess which topics & issues they would most like the Club to take on. People voted by pinning dots on the donkey next to their choices.
● Nominations opened for 2014 officers (election in Feb).
WHEN: Tuesday, January 7th at 7pm
WHERE: Potrero Hill Neighborhood House, 953 De Haro St