The Neighborhood House was definitely the place to be Monday, August 2, and Tuesday, August 3, when both evenings were devoted to candidates vying for the office of Supervisor for District 10. It was standing room only the first night, and a full house the next – a total of about 250 people (a record for the Club, now in its 4th year of existence). Moderated by Keith Goldstein, President of Potrero Hill Association of Merchants and Businesses, the events gave the candidates a chance to highlight their strengths and show their differences.
Candidates who appeared, with website links if available:
Monday, August 2: Malia Cohen, Kristine Enea, Nyese Joshua, Steve Moss, Eric Smith, Lynette Sweet, Stephen Weber
Tuesday, August 3: Isaac Bowers, Espanola Jackson, Chris Jackson, Tony Kelly, DeWitt Lacy, Geoffrea Morris, Diane Wesley Smith, Marlene Tran
You can see video segments of both nights by Linda Post on You Tube here and here.
Complete videos of both nights by Joseph Schaller are here, where you can see the whole 2 nights by clicking on "Play all videos" near the top of the page, or pick and choose among the segments.
Photos from Tuesday (top) and Monday, by Linda Post: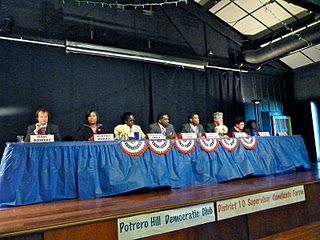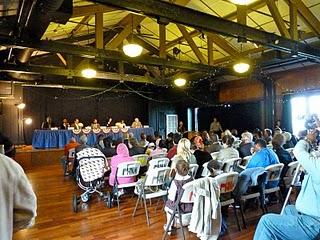 Click here to see more photos.