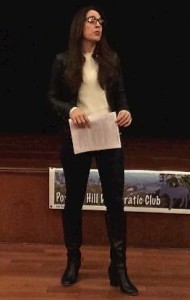 Guns and sugar – how sadly American is that? We took up both topics, and more.
Robyn Thomas, left, Executive Director of the Law Center to Prevent Gun Violence, has been keeping up the good fight in the face of daunting challenges. It's been about three years since she appeared at our club, it was time for another conversation. Photo: John O'Neill.
Robin Dean, activist for the soda tax last time around, spoke about the new, revised and possibly more passable version now gathering signatures in San Francisco, The Sugary Drinks Distributor Tax Ordinance. Members voted to endorse the proposed measure.
In addition:
✧ Members passed an amendment to the Bylaws – an update to comply with a new requirement of the CA Democratic Party.
✧ Members passed a resolution supporting an environmental appeal of the permanent shuttle program.
✧ 2016 officers were elected:
President – Joni Eisen
1st Vice-President (membership) – Tony Kelly
2nd Vice-President (political action) – Bob Boileau
Secretary – Gary Horowitz
Treasurer – Audrey Cortes
Tech Officer – John O'Neill
Officer-At-Large – Kim Christensen
Officer-At-Large – J.R. Eppler
Officer-At-Large – Eliana López
Officer-At-Large – Monisha Mustapha
WHEN: Tuesday, February 2, 7pm
WHERE: Potrero Hill Neighborhood House, 953 De Haro St @ Southern Hts