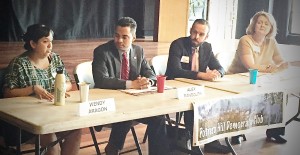 The Community College Board candidate forum included three of the five candidates running for one open seat (left to right): Wendy Aragon, Alex Randolph (appointed incumbent), Tom Temprano – brilliantly moderated by PHDC VP Loretta Lynch (at right).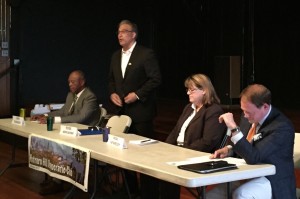 The Sheriff candidate debate featured all three candidates (left to right): John Robinson, Ross Mirkarimi (incumbent), Vicki Hennessy. Moderating that one – brilliantly of course – was PHDC Secretary J.R. Eppler (at right).
The Neighborhood House theater was packed to the rafters.  The candidates were all totally engaged, and engaging. After the meeting was adjourned, members turned in their ballots, and board members did the counting while candidates and audience kept the conversations going.
Voting results: Wendy Aragon for Community College Board, and Ross Mirkarimi for Sheriff!
The club also passed a resolution in support of saving Rincon Park (site of Oldenberg's "Cupid's Bow" on the waterfront) from being shaded by new towers, and amended the Bylaws about endorsing candidates in multi-seat races (threshold lowered from 60% to 50%).
WHEN: Tuesday, August 4th at 7pm SHARP
WHERE: Potrero Hill Neighborhood House, 953 De Haro St @ Southern Heights