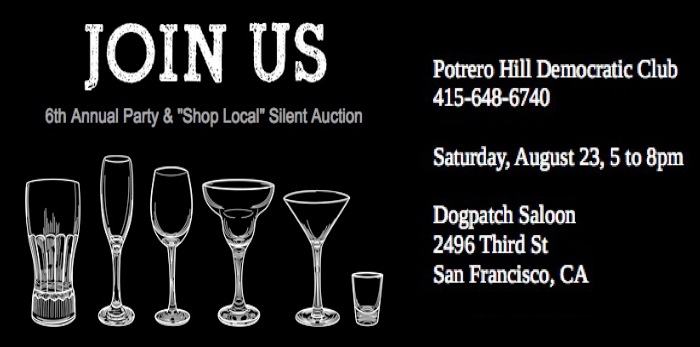 Potrero Hill Democratic Club members and friends had an evening of live jazz, food drinks and fun. Plus walls & tables full of cool stuff to bid from the fabulous merchants and artists of Potrero Hill and Dogpatch. And politicos galore: Senator Mark Leno, with an award for the Club; Supervisor David Campos and Supervisor David Chiu, both running for Assembly; Sheriff Ross Mirkarimi; judicial candidates Daniel Flores and Carol Kingsley; candidate for Supervisor Tony Kelly.
The music – by fantastic jazzmen Chuck Bennett on bass, Ray Scott on guitar, and Jim Zimmerman on drums – could be heard a lot better this year, not sure why. Dogpatch Saloon provided the no-host bar, and food was courtesy of local eateries and PHDC members. Admission was free.
Thank you to everyone who helped before, during and after this lovely event! Our incredible, super-generous list of donors is here.
WHEN: Saturday, August 23 at 5pm
WHERE: Dogpatch Saloon, 2496 Third St @ 22nd