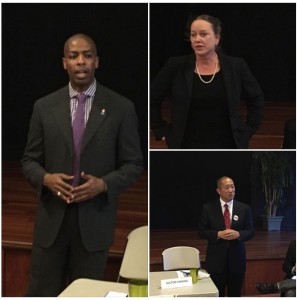 Tuesday, April 5th: Judicial candidate forum, Presidential primary, ballot measures – RESULTS
The forum of candidates for Superior Court Judge, Office #7 – Paul Henderson, Victor Hwang, Sigrid Irias (counterclockwise from left, photo by John O'Neill)- was moderated by attorney & PHDC board member J.R. Eppler. Presidential Primary candidates Bernie Sanders and Hillary Clinton were represented by Gustav Feldman and Susan Pfeifer, respectively; presentations and audience Q&A were moderated by PHDC V.P. Tony Kelly.
ALL the candidates & surrogates were so strong and compelling that no judicial candidate and no presidential candidate got the 60% of votes necessary for endorsement. So:
SF Superior Court, Office 7 – No position
U.S. President – No position
Both of the above races will be voted on again (top two for judge, Democratic nominee for President), in the General Election in November.
After presentations by Club officers, members voted the following endorsements on six local & regional ballot measures and one statewide measure:
Prop A – Yes – Public Health and Safety Bond
Prop B – No – Park, Recreation and Open Space Fund. Charter Amendment.
Prop C – Yes – Affordable Housing Requirements. Charter Amendment.
Prop D – Yes – Office of Citizen Complaints Investigations. Initiative Ordinance.
Prop E – Yes – Paid Sick Leave. Initiative Ordinance.
Measure AA – Yes  – Clean and Healthy Bay Parcel Tax. Regional Measure.
Prop 50 – Yes – Suspension of Legislators Amendment. CA Constitutional Amendment.
WHEN: Tuesday, April 5, at 7pm
WHERE: Potrero Hill Neighborhood House, 953 De Haro St @ Southern Heights
☆☆☆☆☆☆☆☆☆☆☆☆☆☆☆☆☆☆☆☆☆☆☆☆☆☆☆☆☆☆☆☆
Tuesday, April 12th: Democratic County Central Committee candidates from Assembly District 17
Candidates who have submitted completed questionnaires will appear in small groups at regular intervals, to present and answer questions. Come and meet them! Ballots are due at the end of the meeting, and will be counted immediately.
WHEN: Tuesday, April 12, at 7pm
WHERE: Potrero Hill Neighborhood House, downstairs in the Game Room, 953 De Haro St @ Southern Heights