The Club revisited and further explored three issues that we have examined in the past, ranging from within the district to statewide – and of course they're all related.
In District 10, there has been ongoing concern about the environmental impacts of development in the Bayview. We continued that discussion, this time with members of POWER (People Organized to Win Employment Rights) Jaron Browne and Nyese Joshua.
The citizens of San Francisco are moving toward the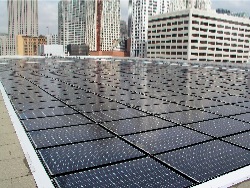 ability to pool their purchasing power to buy electricity from more sustainable sources – unless PG&E succeeds in effectively wiping out all competition with the deceptive Prop 16. "Community Choice Aggregation" is now known as CleanPowerSF, and was described by Caroline Teng of SF LAFCo.
Then, following up on our panel discussion of the California water crisis, Adam Scow of Food & Water Watch gave reasons to flush the state water bond on the November ballot. however, it was to late to vote on an endorsement either way, so Adam will return June 1st.
At the beginning of the meeting, Alex Tourk from Why Tuesday introducing the idea of adding Saturday as an election day, and in the middle, Isaac Bowers and Rev. Nina Pickerrell, candidates for District 10 Supervisor, introduced themselves.
WHEN: Tuesday, May 4th, at 7:00PM
WHERE: Potrero Hill Neighborhood House, 953 De Haro @ Southern Heights