At this month's jam-packed meeting, Sandra Schwartz (below, left), Peace Education Coordinator at the American Friends Service Committee, introduced the Campaign for New Priorities, which involves ending pointless wars, cutting the defense budget and re-directing the funds to actual human needs. The Club will vote whether to endorse its principles at the May 3rd meeting.
Next, we were treated to an inspiring and dynamic presentation from Alysabeth Alexander (below, center), Political Action Chair of SEIU Local 1021, on the Fight for a Fair Economy for working families and the whole endangered middle class, in Wisconsin and closer to home.
Bill Barnes was quickly elected to fill the position of 1st VP/Membership Chair, vacated when Isaac Bowers moved to DC.
Supervisor Malia Cohen (below, right) then joined us to discuss the latest at City Hall. Moreover, she has graciously agreed to show up quarterly to fill us in. All speakers' presentations included typically lively Q&A.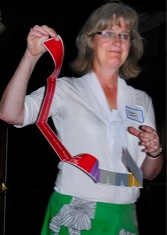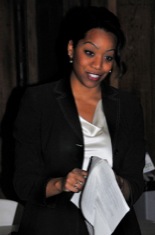 Rebecca Shearin photos.