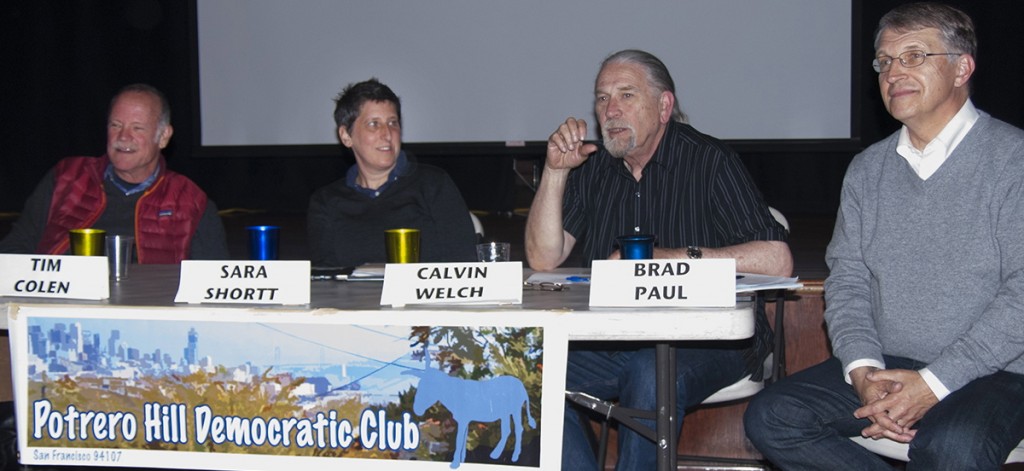 The housing situation in our fair City is dire and fast-changing. Housing prices explode; protests against evictions escalate; legislation is introduced at state and local levels; lawsuits are filed by the City Attorney.  San Francisco leads the nation in income disparity. Participants in a thought-provoking discussion, which included plenty of audience Q&A, were:
Tim Colen,  Executive Director,  SF Housing Action Coalition
Sara Shortt, Executive Director, SF Housing Rights Committee
Calvin Welch, founder, Council of Community Housing Organizations
Brad Paul, Deputy Executive Director, Association of Bay Area Governments,  moderated.
The above program was co-sponsored by our friends at San Francisco for Democracy.
At the start of the meeting, speaking briefly and toting campaign swag, were the endorsed campaigns of Yes on B – Voter Approval for Waterfront Development Height Increases (Tim Hester) ; Betty Yee for Controller (Jay Cheng); Derek Cressman for Secretary of State (Joni Eisen).
WHEN: Tuesday, May 6, @ 7pm
WHERE: Potrero Hill Neighborhood House, 953 De Haro @ Southern Hts