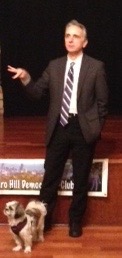 City College Trustee John Rizzo, recently returned from testifying in DC against the deservedly disgraced accrediting commission, gave an update on the situation at CCSF. With the help of PHDC's mascot. Photo: John O'Neill.
District 2 Supervisor Mark Farrell discussed the Shared Schoolyard Project, which he revamped in 2012 to open playgrounds to the public on weekends, with the goal of expanding it to 80 schools. Club members voted to endorse the program.
PHDC Executive Committee member Audrey Cortes gave her impressions of the Paris Climate Change Conference, which she attended with Oakland Mayor Libby Schaff. PHDC president Joni Eisen talked about the Voters Right to Know Act and collected signatures to help put it on the November ballot.
Nominations opened for 2016 Club Officers (election to be held in February).


Members pinned dots on the donkey to vote for the topics & issues they would most like the Club to take on or revisit.  Top dot-getters (in alphabetical order): affordable housing crisis, Black Lives Matter, homelessness, income gap, labor issues, overturning Citizens United, preventing gun violence, voter education via endorsement meetings.