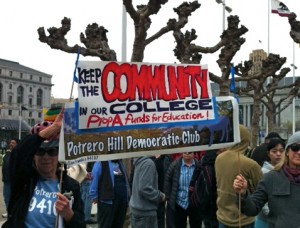 You may have heard about the recent occupation of the Administration Building by CCSF students, with four specific demands in response to sanctions imposed by the accreditation commission. Students, faculty, staff, trustees and alumni all want to keep City College of San Francisco open – but they don't all agree on the best approach. Panel discussion with representatives from:
City College of SF Board of Trustees – Two members with differing perspectives: Rafael Mandelman and Steve Ngo.
Save CCSF – Coalition of faculty, students, staff, & community members: Professor Rodger Scott and student Inder Grewal
A civil discussion was held around the various takes on the situation, with questions from the audience.  After the panel discussion, Club members had a separate meeting and voted to endorse and attend the Save CCSF rally at City Hall on March 14th at 4pm. There's our banner at the rally, above.
WHEN: Tuesday, March 5th, 6:45pm (program at 7pm sharp!)
WHERE: Potrero Hill Neighborhood House, 953 De Haro St