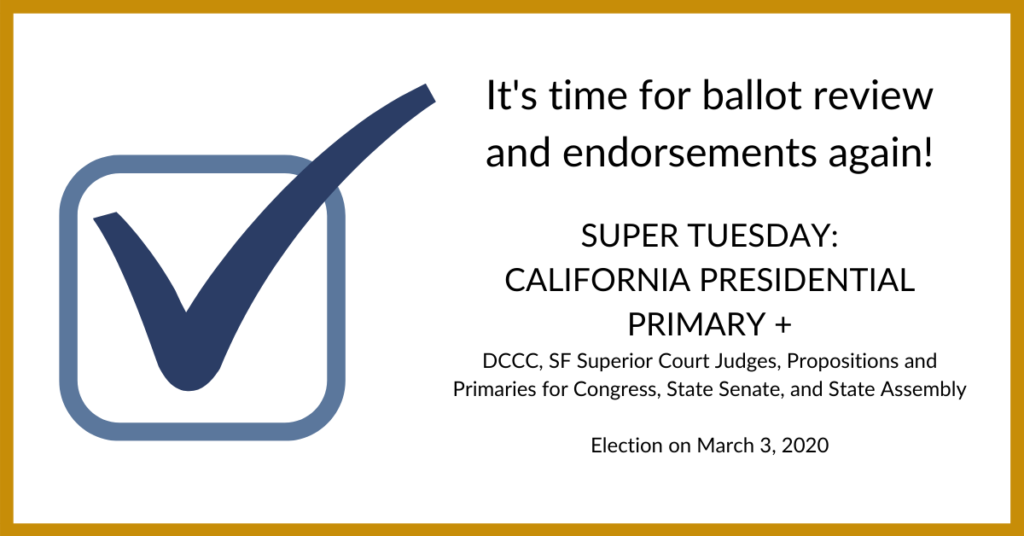 The Presidential Primary Election is March 3, and we'll be voting on our club endorsements in our January meeting. Join us to hear from candidates, review all the ballot measures, and vote on endorsements!
Date: Tuesday, January 7 at 7 pm
Location: Potrero Hill Neighborhood House, 953 De Haro St
Endorsements:
Democratic Presidential Nominee [See information below from the December meeting]
US Congress, District 12 Primary
California State Senate District 11 Primary
California State Assembly District 17 Primary
DCCC, AD-17 (14 seats) [See information below from the December meeting]
SF Superior Court Judges, Seats 1, 18, and 21
Propositions
All can attend to get informed about what's on the ballot. Regular members who have attended at least 2 meetings/events in 2019 and are current on their membership dues can vote on endorsements.
If you are a member who fulfills the requirements above and cannot attend the meeting, you are eligible to vote by absentee. If you would like to vote by absentee ballot, please send us an email at [email protected] by December 30, 2019.
Absentee ballots will be provided by end of day Friday, January 3, and must be emailed back by 5 pm on Monday, January 6.