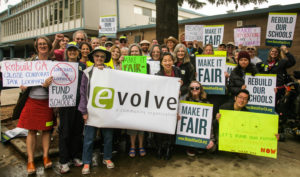 Evolve CA returns to PHDC: campaign manager Ian Fregosi will update us on the efforts, long supported by the Club, to close the corporate loopholes in Prop 13. Make It Fair in 2018!


We will also hear from Dotty Nygard, a leading challenger to Republican Jeff Denham's congressional seat in California's District 10. That district (Modesto, Tracy, Turlock, Oakdale, etc) is the closest Congressional district to San Francisco held by a Republican; in this blue-on-blue city, we know that supporting other districts is one of the most productive Resistance things we can do. What's going on over there? How do we defeat the Republican next door? Come to Tuesday's meeting to hear more and take action.
Also, City College Trustee Tom Temprano will remind us that Free City College is real, and classes start August 19! (Click the link to check out classes and sign up now!) And, we'll discuss supporting the San Francisco Living Wage Coalition's efforts to win pay increases for 25,000 low-wage workers in San Francisco, including many people we rely on for crucial services. One more way to Make It Fair in 2018.
Join us Tuesday, as The Resistance turns to specific campaigns.
WHEN: Tuesday, August 1st, 7:00 pm
WHERE: Potrero Hill Neighborhood House, 953 De Haro St