From the Potrero Hill Democratic Club meeting of September 13:
Superior Court Judge, Office No. 7
VICTOR HWANG
BART Board of Directors, District 7
LATEEFAH SIMON

BART Board of Directors, District 9
BEVAN DUFTY

SFUSD Board of Education
RACHEL NORTON*
STEVON COOK
MATT HANEY*
MARK SANCHEZ
*incumbent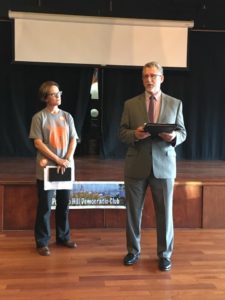 Thea Selby and Jeff Kositsky speaking on behalf of Prop J & K.
Photo by John O'Neill
Local Propositions
A – YESÂ  SFUSD Bonds.
H – YESÂ  Public Advocate.
I – YESÂ  Funding for Seniors and Adults with Disabilities.
J – YESÂ  Funding for Homelessness and Transportation.
K – YESÂ  General Sales Tax.
O – No Position  Office Development in Candlestick Point and Hunters Point.
Q – NO!!  Prohibiting Tents on Public Sidewalks.
R – NOÂ  Neighborhood Crime Unit.
RR – YES!!  BART Safety, Reliability, and Traffic Relief.
!! = unanimous
Previous endorsements for November 8 are here.