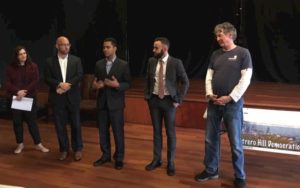 From the Potrero Hill Democratic Club meeting of September 6:
US President and Vice President
HILLARY CLINTON and TIM KAINE
US Representative, District 12
NANCY PELOSI
Member, State Assembly District 17
DAVID CHIU
Trustee, Community College Board
RAFAEL MANDELMAN
ALEX RANDOLPH
TOM TEMPRANO
SHANELL WILLIAMS
AMY BACHARACH
(5 candidates endorsed, for 4 seats – please only vote for 4 in November)
Above photo by John O'Neill, l. to r., Amy Bacharach, Rafael Mandelman, Alex Randolph, Tom Temprano, Tim Killikelly for Shanell Williams
Local Propositions
B – YESÂ  City College Parcel Tax.
C – YESÂ  Loans to Finance Acquisition/Rehabilitation of Affordable Housing.
D – YESÂ  Filling Vacancies in Local Elective Office.
E – YES!!  City Responsibility for Maintaining Street Trees.
F – YESÂ  Youth Voting in Local Elections.
G – YESÂ  Police Oversight.
L – YESÂ  MTA Appointments and Budget.
M – YESÂ  Housing and Development Commission.
N – YESÂ  Non-Citizen Voting in School Board Elections.
P – NO!!  Competitive Bidding for Affordable Housing Projects on City-Owned Land.
S – YES!!  Allocation of Hotel Tax Funds.
T – YESÂ  Restricting Gifts and Campaign Contributions from Lobbyists.
U – NO!!  Affordable Housing Requirements for Market-Rate Development.
V – YESÂ  Tax on Distribution of Sugar-Sweetened Beverages.
W – YESÂ  Real Estate Transfer Tax on Properties Over $5 Million.
X – YESÂ  Preserving Space for Neighborhood Arts, Small Business, and Community Services in Certain Neighborhoods.
!! = unanimous
Previous endorsements for November 8 are here.