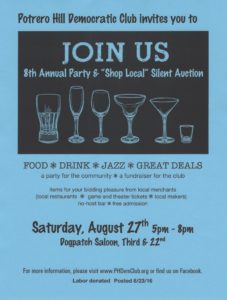 Food, drink, jazz and great deals! Potrero Hill Democratic Club's Party & "Shop Local" Silent Auction is always a celebration of and for the community – and a fundraiser for the club's many educational and democracy-enhancing activities. We never solicit or accept money from candidates or campaigns we endorse – so this event and membership dues are it for us.
The live jazz came from a trio of amazing local musicians: Chuck Bennett on bass, David Austin keyboards, Mark Rosengarden drums. The food was courtesy of club members and local eateries, and the tempting items to bid on are donated by the wonderful merchants and artists of Potrero Hill & Dogpatch. The bidders out-did themselves – this year the Auction broke all records. Check out the list of generous donors here.
5pm – 8pm. Dogpatch Saloon, 2496 Third St at 22nd.